Summer Newsletter
As I am about to embark on a 2 1/2 month long paddle, I am reminded of a quote sent to me by a friend. In her poem Stanzas, Emily Blonte writes:
"Often rebuked, yet always back returning to those first feelings that were born with me… I'll walk where my own nature would be leading. It vexes me to choose another guide… The earth that wakes one human heart to feeling. Can centre both the worlds of Heaven and Hell."
I spent the last 3 months exploring the wilderness of Alaska, letting nature be my guide and mentor. Always grounding me to what is essential in life, I experienced profound insights, humility and was welcomed by love everywhere I went.
---
W.I.L.D.
Our connection to nature is deeply rooted but if it is not experienced at a young age it is most likely that it will never find an anchor on which it can grown. Wilderness immersion camps are for me one of the most precious ways to ignite the bond we have with the planet.
I believes that immersion in nature is an important part of our development, especially during our early, formative years when it is so critical to discover who we are, develop strong self-esteem, begin to adopt leadership skills, challenge our physical well-being and acquire the capacity to live a balance life in a world dominated by technology.
W.I.L.D. – Wilderness Immersion for Leadership and Discovery, aims is to give youth, especially under-privileged teens, the opportunity to experience first-hand the positive impact nature can have on their lives. The goal is to motivate them to explore and discover the natural world and understand how experiencing the beauty and challenges inherent in nature can lead to enhancing their self-confidence and developing valuable leadership skills
Our wish is to have their testimonials and experiences reach ​ ​and positively impact other teens and their families and inspire them to Experience the W.I.L.D
---
1,000-MILE FUNDRAISING PADDLE
For my first W.I.L.D. campaign, I will raise the necessary funds to send a small group of under privileged teens to a 30-day Sea Kayaking camp in Alaska in the summer of 2015. The wilderness immersion camp will be given by the internationally known and extremely well reputed National Outdoors Leadership School (N.O.L.S.).
Launching in the third week of August, I will paddle from Victoria on Vancouver Island to San Francisco, a journey of 1,000 miles. The 2 1/2 month paddle will be at the core of a Indiegogo campaign. Click here – INREACH tracking & FACEBOOK, to follow this amazing journey!
Find out more about how you can contribute and the wonderful rewards you can get. These teens will be changed forever, transformed and more deeply connected with the planet. Lets make this happen!
"The most rewarding part of this course was getting out of my element, and experiencing nature at its fullest." Thomas W. Southeast Alaska NOLS Sea Kayaking Grad
---
STOP . BREATHE . RELAX . LISTEN
Over the course of the next 6 months I will be announcing the launch for my new line of merchandize. Partnering with my sponsors, I will be offering tote bags, merino hoodies, t-shirts, mugs and much more with the mantra STOP . BREATHE . RELAX . LISTEN on one side and The Power of Nature to Restore the Human Spirit on the other.
STOP . BREATHE . RELAX . LISTEN – The Power of Nature to Restore the Human Spirit is the foundation of my narrative and the message behind my work.
---
SAN FRANCISCO INTERNATIONAL PHOTO GOLD AWARD
August 9th was the opening of the San Francisco International Photo exhibition. My photo LO won one of the GOLD awards. Judged by Paula Tognarelli, Executive Director and Curator, Griffin Museum of Photography, the winning photos are on display at the Gallery Photographica, in San Francisco, 3265 17th Street, near the corner of 17th and Mission Streets, until August 24th.
---
ALASKA 2014
It is now my second summer in Alaska. Last year I paddled from Sitka to Hoonah, from Tenekee to Hoonah and hiked around Mendenhall Glacier. This time I decided to return to Juneau and visit the famous brown bears of Pac Creek.
I then went back to the Mendenhall Glacier but this time kayaking the lake and exploring the icebergs.
Next stop was the Taku Glacier, up the Taku River. The highlight of this paddle was kayaking at night with the orcas, humpback whales and the plankton blooming. Listen to my radio interview on KTOO, public radio in Juneau.
Finally, I spent 6 weeks on the island of Kodiak. The first paddle was to the island of Afognak and the second one – a 150-mile paddle down the Pacific coast south of Kodiak. Listen to my radio interview on KMXT Kodiak Public Radio and watch my tv interview on KTUU Alaska channel 4 NBC. Check the KODIAK & JUNEAU PINTEREST for a wonderful photo recap with many bears, minks, glaciers and much more.
---
Explorer and Storyteller, Daniel Fox, Believes in the Power of Nature to Restore the Human Spirit – on ABC
On August 7th, while in Salt Lake City for the Outdoor Retailer tradeshow, I was invited to pass by ABC's studio for a live interview and talk about my work and the photography I did on Antelope Island.
---
OUTDOOR RETAILER 2014
Every year I do my best to attend the Outdoor Retailer trade show and reconnect with all my sponsors. This year I had an even bigger reason to attend as my main sponsors Wilderness Systems and Adventure Technology had a big wall with my photography and excerpts from my stories. The photos were a great success and comments poured in. From the Press Release:
"…At the Outdoor Retailer trade show next week, we are displaying some of Daniel Fox's work (see the example in the montage above!) at our booth. It not only serves as a beautiful reminder of why we love to get outside and play, but it just might touch you in ways you wouldn't have expected. Our goal is to inspire you to explore a world without boundaries and ask you to think about this:  "Isn't it time you looked at life with a new perspective?…"
KOKATAT also featured my photography – which appeared in this year's catalog. Their booth's front banner had my Owl (top middle), the Morning Reflection (middle center), my photo of professional kayakers Kate Hives (bottom left) and Paul Kuthe (bottom right)
Voltaic Systems which has been supporting me with solar panels and long lasting batteries had this shot for their full backdrop. What a great presence at this year's OR!!
---
MOUNTAIN KHAKIS
Mountain Khakis has been believing and supporting my work since the beginning. I am honored to be featured in there 2015 catalog! So great being part of such a wonderful team of dedicated people, working relentlessly at delivering the best products. Thank you MK!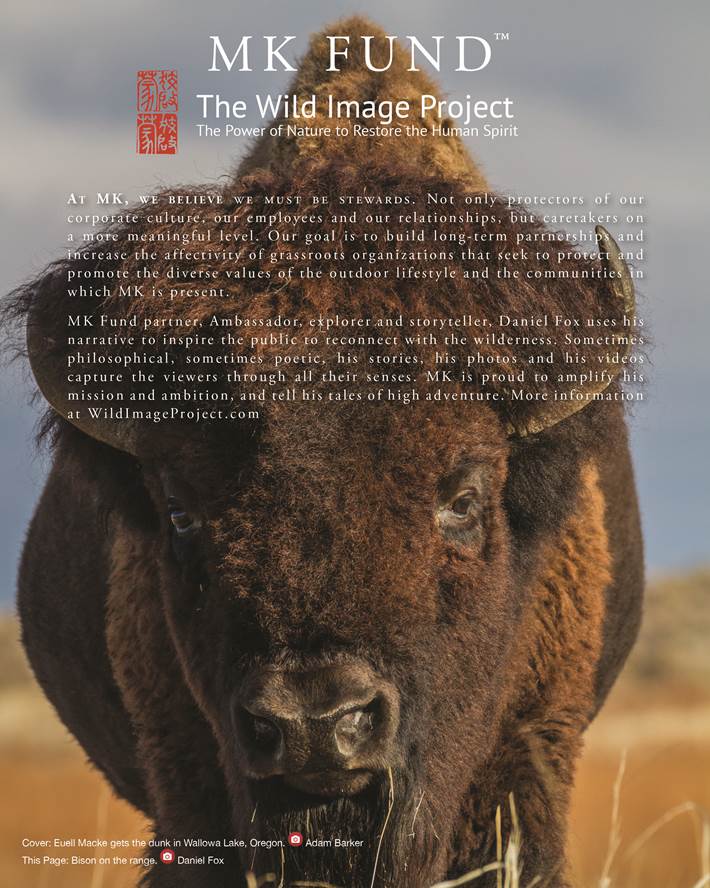 ---
MORE MINUTE OF NATURE
The series now has 24 videos. Watched by thousands, the videos have been the perfect platform to share my insights and the material I find inspirational. Promoting the need to disconnect by being in the moment – even just for 60 seconds, the series is a call for action to find balance in our ever-connected lives.
MINUTE OF NATURE – CAPE ALITAK
Woody, plant manager at the Alitak Cannery and author of the book "Cape Alitak Petroglyphs: From the Old People" writes about a life changing event as a child while paddling with a whale
MINUTE OF NATURE – THREE SAINTS HARBOR
The benefits of wilderness immersion, a quote from Casey Lyons at Backpacker Magazine and a myriad of moon jellyfish at Three Saints Harbor, Kodiak Alaska
---
STAY TUNED & THANK YOU!
I hope to get your support for the W.I.L.D. campaign. Don't forget to follow the expedition via InReach and Facebook. And most important, find the time in the day to STOP . BREATHE . RELAX . LISTEN.