FEEL THE WILD book tour 2019
Ever since the dawn of mankind, humans have looked up at the sky and interpreted what it saw as messages from the beyond. Shaped by our imagination and beliefs, we have convinced ourselves that these forces of nature, these elements that are beyond our control, actually exist so that our gods and angels can speak to us.
While my spirituality runs deep and my sense of divinity takes many forms, it is hard for me to belief that nature is actually taking the time to shape itself in a specific way with the intent of sending me, mere human, a message. It is one thing to recognize a weather pattern, but it is another thing to think that God speaks to me through the art of cloud shaping. In the end, we see what we want to see, when we chose to see.
Yet, I must admit that my creative mind is having fun right now.
We have been on the road for 75 days, driving more than 13,000km, doing forty plus events in 21 different cities. Only 3 other presentations before we can let go of the gas pedal and relax. We left Calgary this morning before the sun even showed up and now, 10 hours later, just 3 hours until we reach our house, it seems that the heavens have chosen an appropriate moment to put "clouds" into my mouth.
In the sky, just above the road and right in the middle of my windshield, a mysterious cloud phenomena has taken the shape of a giant exclamation point. As the 2019 FEEL THE WILD book tour is coming to an end, stamping this expressive punctuation onto the sky successfully captures the overall feeling I have. While I am fully aware that this fallstreak hole is in no way related to my existence, the timing of this event gives me pleasure. Wow. Grateful. Tired. These words are not enough to express my state of mind. The mark that denotes a strong emphasis must be applied. Wow! Grateful! Tired!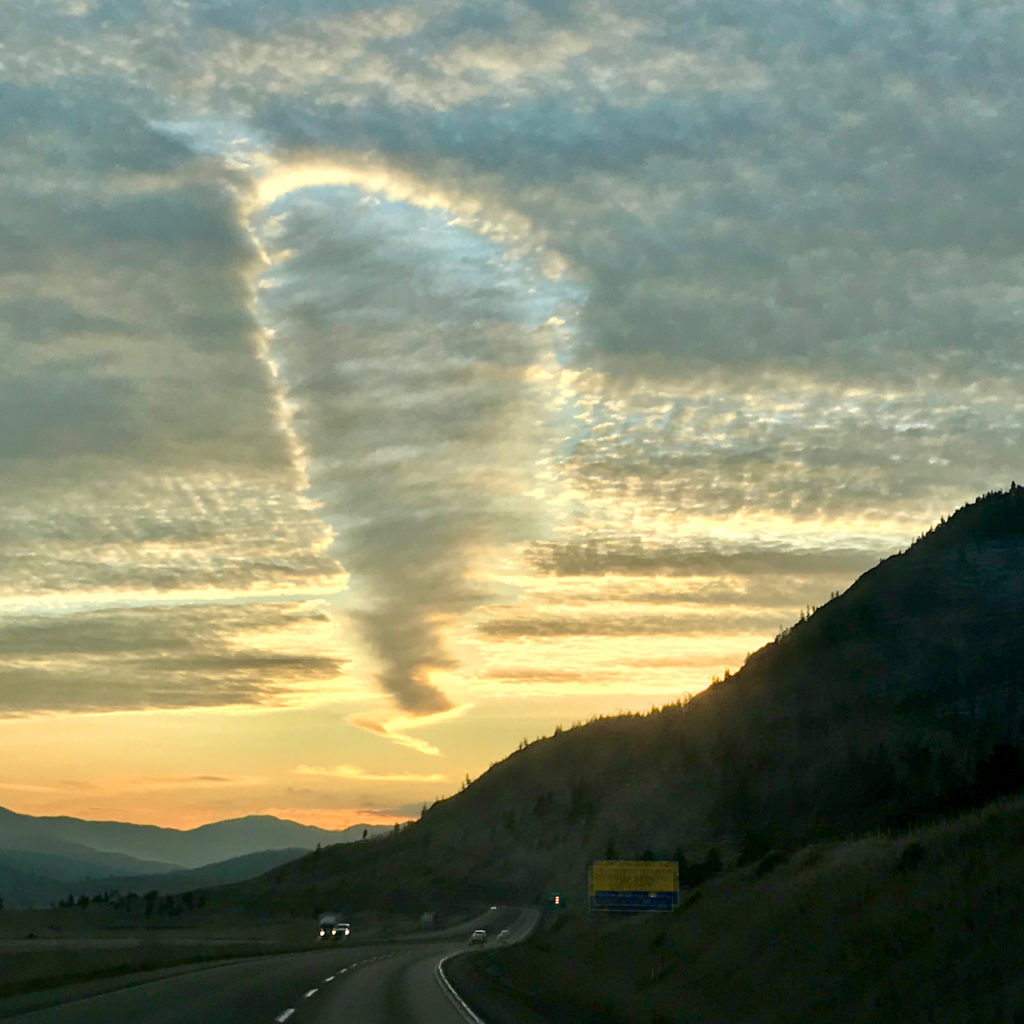 At the beginning of 2019, all I had was the mockup of a book that I started designing in 2014. Through the years since, as new stories and photos were added, the design got refined, the text got edited and the pages grew in number. In time, Feel the Wild became a 280-page portfolio, a sort of manifesto about how we should reevaluate our understanding of nature and redefine our relationship with it.
The story of how I went from self-published to a full-on North American book tour within a year has more to do with timing, luck, and good old fashion perseverance… plus yes lets not forget a soupçon of risk! One could say that the seeds were planted many years ago, and had I not turned tragic past setbacks into opportunities, none of this would have come together. But this is not a story about how I conquered the mountain even after it brought me down to my knees. This is about the recognition of the people and parties who have made all of this possible.
As 2019 went on, one by one, the pieces of the puzzle came together: first Arc'teryx, then Rocky Mountain Books, followed by Lexus, and finally all the hotels. On October 3rd, just 4 days before we were to depart for the book tour, we received news that the books had finally been delivered to the warehouse and were ready for pick up. Everything had miraculously happened the way we needed it to. We were ready and so the tour began!
THANK YOUs
First and foremost, a big thank you to my wife Tristan for her amazing ideas, precious support and endless patience.
To our dog Kobe for not saying a word as we used him to sell books. He is the best icebreaker and crowd pleaser!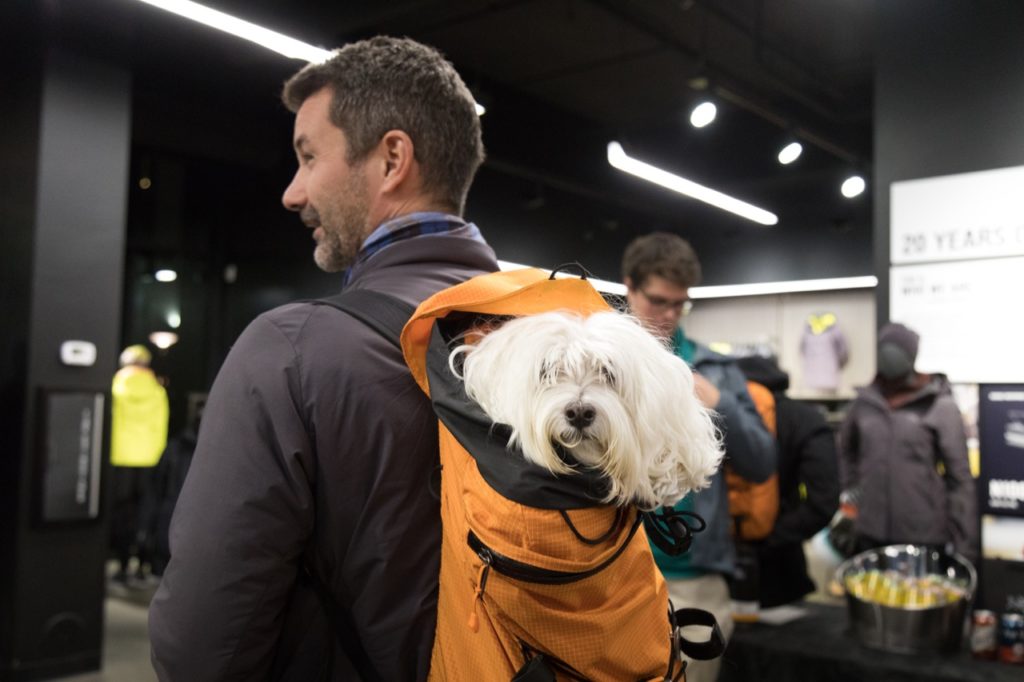 To Stephanie and Dan at Arc'teryx for giving me this incredible opportunity.
To Olena at Lexus for seeing in me a worthy ambassador. #ExperienceAmazing
One of the biggest surprises during the tour came from the hotels who hosted us. I am definitely not a social media influencer worthy of receiving that kind of attention, yet they believed in my work and treated us like the best of guests. Thank you to Gabor and his team at Rosewood Washington DC, Brendan and his team at Cavallo Point Lodge in San Francisco, Michael and his team at Fairmont Miramar in Santa Monica, Dragan and his team at the Elizabeth Hotel in Fort Collins, Andrew and his team at the Elliot Park Hotel in Minneapolis, Michael, Sean and Albert at Archer Hotels in Seattle, Napa  & Boston, and Nicolas and Jacques-Alexandre at the Germain Hotels in Montreal & Toronto for making us feel at home, you have no idea how much we appreciate and value what you did for us.
To everyone who has hosted us for an event: Arc'teryx Whistler, Arc'teryx Seattle, Barnes and Noble Seattle, Arc'teryx Portland, Mad Fritz in Napa, Untrodden in San Francisco, Arc'teryx Palo Alto, Arc'teryx Los Angeles, REI Huntington Beach, REI Santa Monica, Arc'teryx, REI & the Oxford Hotel in Denver, Arc'teryx & REI in Washington DC, Arc'teryx, Barnes and Noble & REI in New York city, Arc'teryx Boston, REI & Barnes and Noble in Minneapolis, Arc'teryx Calgary, and Lexus Regency & Arc'teryx in Vancouver.
To Anne & John Barker, and Camille Preston & Mark Newhall for opening your house to us.
To the Canadian Consulates in Seattle, San Francisco, Los Angeles, Denver, New York & Boston and the Embassy in Washington DC.